Rise
verb: an act of rising above; elevation of standards, ethics, morals or principles
noun: an increase in value; beginning of a new era
The Road to Recovery
When tragedy strikes and the paralysis of uncertainty takes control of the mind, it can be difficult to see the light at the end of our suffering. During these darkest moments, hope and faith are important sources of peace.
However, hope and faith are not enough. As we do in our other humanitarian projects, Gini is actively working every day to save lives in every way that we can. We will continue working to reduce the unnecessary suffering until the crisis is over.
During the pandemic, Gini has been actively involved in educating the public about the Covid-19 pandemic. Additionally, the Gini team has a long history of building and deploying innovative product/supply distribution and payment processing technologies, which has enabled us to develop strong relationships with factories and suppliers over the years. We've been asked several times if Gini can help during the crisis. Yes, we can. In fact, we're doing a lot.
Gini is working to help alleviate the worst pain points during this challenging time in human history. But Gini's humanitarian mission extends far beyond the current crisis. Learn more below.
---
What's the Big Deal About Gini?
Gini is a nonprofit, nonpartisan economic, technology and education R&D lab. We build decentralized technologies for unique banking, healthcare and asset distribution systems. Gini's technologies and services are designed to reduce the power and control that giant cannibalistic corporations have over our economic, banking and healthcare systems.
Protecting Human Rights. Gini works to protect human rights with cryptographically secure, equitable and sustainable monetary and healthcare systems with a focus on transaction privacy.
Real-World Economics. The Gini School will soon provide education modules in real-world Economics within the context of Gini's unique Economic Humanism philosophy.
Blockchain with a Soul. To begin your Gini journey, watch the "Quick Summary" and "Software Demo" videos. For a detailed summary, watch the Gini documentary film below and see the rest of this page. To learn even more, read Why is Gini Different? To learn a lot more, read the Gini whitepaper and GINI: Capitalism, Cryptocurrencies & the Battle for Human Rights (aka, the "Gini book") and explore the many technical and economic resources on the Gini website.
Gini Media Library
What Problems is Gini Solving?
Gini is solving four big problems that impact you and your family and virtually every human on Earth today.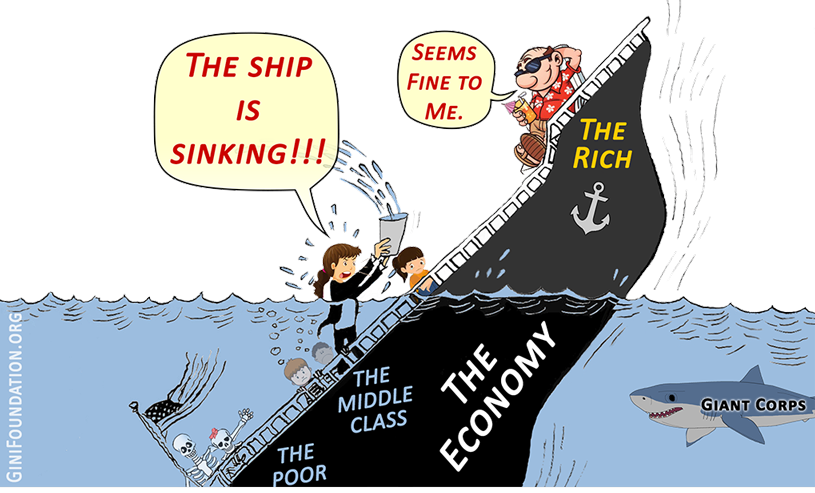 Problem 1: Broken Economy. Highly concentrated and unsustainable economic systems cause economies to collapse. These conditions destroy our economic liberty, our human rights, and lead to corporate and government tyranny. Politicians will never fix these problems because they're captured by the money of giant corporations. The poor and middle class suffer the most under these conditions.
Solution: With Gini's equitable and sustainable monetary system and decentralized exchange, wealth creation and distribution are more equitable and sustainable for all humans. This makes the Gini currency more stable and viable for real-world commerce.
Problem 2: Destruction of Privacy. The destruction of our privacy by short-sighted politicians and giant corporations also destroys our liberty, our human rights, and leads to corporate and government tyranny. Without transaction privacy, all other human rights are threatened.
Solution: With a focus on protecting privacy using state-of-the-art cryptography, the Gini Platform protects transaction privacy and all other human rights.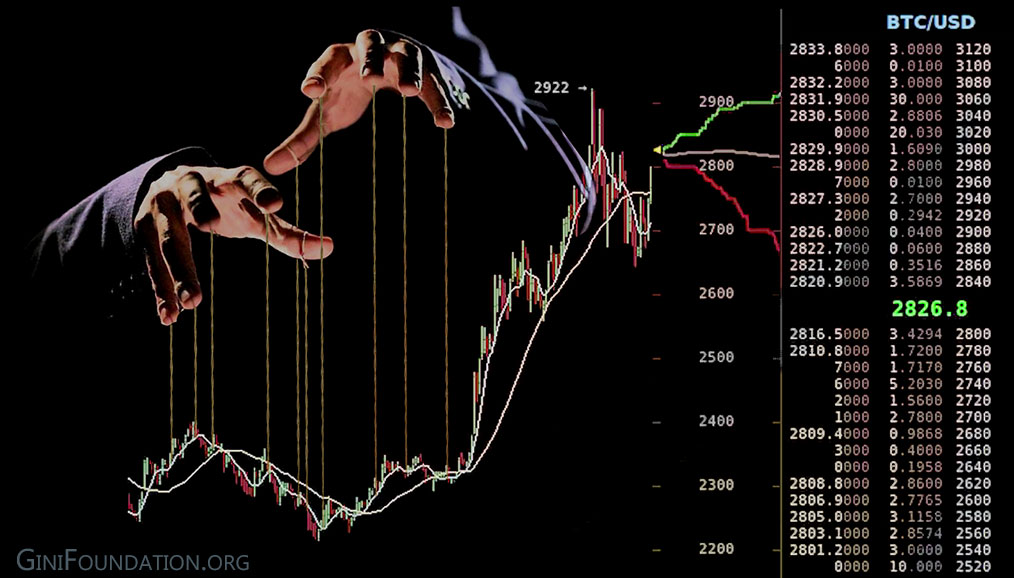 Problem 3: Market Manipulation. All major cryptocurrencies today are plagued by broken monetary systems, which leads to destructive market manipulation and high volatility. This makes them useless for real-world commerce.
Solution: With Gini's decentralized exchange and unique ecosystem stability mechanisms, wealth creation and distribution are more equitable and sustainable for all humans. This also makes the Gini currency more stable and viable for real-world commerce.
Problem 4: Malicious A.I. Corporate-controlled artificial intelligence is already manipulating our financial markets, social media platforms, and political systems . . . and it's going to get much, much worse if we don't work together to do something about it.
Solution: With unique technical features that protect humans from malicious A.I., the Gini Platform gives humans a better chance to survive and create happier lives.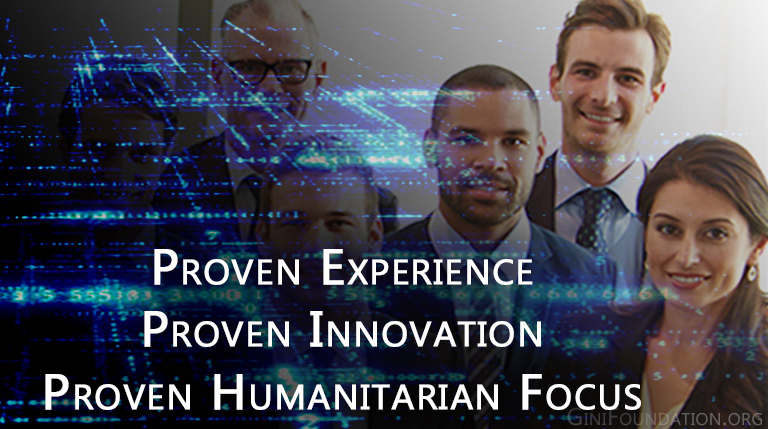 Proven Experience. The Gini team founded Authorize.Net, the first and largest online payment gateway in the world . . . and AngelPay, the first and largest nonprofit payment processor in the world. Our proven history of innovation in secure, large-scale payment technologies, cryptocurrencies, and nonprofit services gives us the credibility and experience to tackle big technical and economic problems.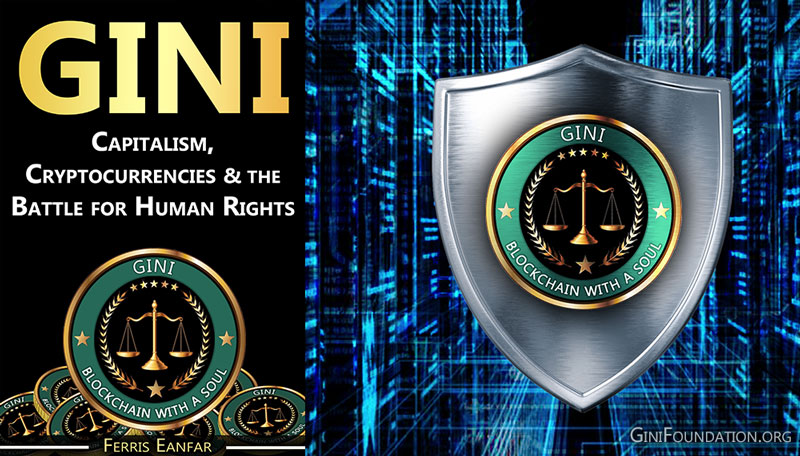 Trustworthy. Gini is different from all other cryptocurrencies in almost every conceivable way. In fact, Gini is much more than a cryptocurrency. If you want to know exactly why that's true, you can read the Gini whitepaper, watch the Gini documentary film, and read our nonpartisan economic and technical books. All that, combined with a world-class technical team and a provably secure technical architecture . . . it's safe to say that no other cryptocurrency project has done more to earn your trust and support than Gini.
What Are People Saying About Gini?

Average Review:

(See all Gini reviews.)
---
Realistic & Innovative solutions
By Chris Gramly | Verified Purchase of GINI: Capitalism, Cryptocurrencies & the Battle for Human Rights
I've been a business owner and investor for many years so it's not easy to impress me with books that claim to fix the problems with capitalism today. In fact, I originally thought I would be skeptical of this book because I've seen so many shallow "solutions" to humanity's problems that are not realistic.
However, I was pleasantly surprised by the depth and and research that substantiates the conclusions and solutions in this book. Mr. Eanfar and the Gini team should be commended for presenting such a complete and realistic alternative to the status quo.
It's also encouraging to see an author backing up their words with something that is concrete and actionable. I highly recommend this book to anybody who is dissatisfied with what Mr. Eanfar describes as "broken capitalism", which is appropriate given the economic problems that Wall Street and their political cronies in government have created.
---
Great book! Awesome read!
By Leah Johns | Verified Purchase of GINI: Capitalism, Cryptocurrencies & the Battle for Human Rights
The REAL Adam Smith . . . A book about cryptocurrencies that doesn't try to sell you something. For that alone, it deserves at least 3 stars. Then, on top of that, this book doesn't insult your intelligence with a bunch of BS neoliberal nonsense. Instead, it explains EXACTLY what Adam Smith said about economics, free markets, etc. so there is no confusion about how free markets should work according to the inventor of capitalism himself, Adam Smith. It was surprising to see how different Adam Smith's own words are compared to the propaganda that we see and hear from Wall Street goons. For giving readers the reality of economics today, it deserves 5 stars (or more) because we are all deprived of economic reality when we depend on TV pundits and self-serving politicians to tell the truth. They're incapable of telling the truth, but this book does.
---
Learn about cryptocurrencies the RIGHT WAY
By Lori P. Kove | Verified Purchase of GINI: Capitalism, Cryptocurrencies & the Battle for Human Rights
Forget about everything you think you know about cryptocurrencies today. You'll see it's all BS compared to what this book will teach you. There is a real place for cryptocurrencies in our world, but none of the major cryptocurrencies today are solving any real-world problems. After you read this book and learn about the Gini cryptocurrency and why it's unique, your mind = blown. But the book is about much more than cryptocurrencies. Read it. You won't be disappointed.
Share your thoughts with other potential readers:

Average Review:

(See all Gini reviews.)
---
Join the Gini Community. Please support Gini by shopping in the nonprofit Gini Store, buying the Gini cryptocurrency, and sharing Gini with your friends and family. Together, we really can build a better future for humanity.
Gini is a deep project with many implications for humanity. The Gini Foundation team is uniquely qualified for this important mission. As we build and deploy Gini's systems, we will add more details to this website. If you want to be alerted when we achieve important milestones, please follow Gini on Twitter and/or join the Gini Newsletter.
Thank you for your enthusiasm and support.

Loading ...