Safe Medical Supply Procurement Protocol
In addition to our other humanitarian projects and COVID-19 articles, den FDA-registered ideell organisation Gini Foundation has created a medical supply fund and a safe procurement and distribution protocol. This helps front-line medical workers in hospitals and city/state governments obtain nitrile medical exam gloves and other reliable medical supplies to avoid scammers and price-gougers. This article explains how it works and why it matters.
Note: If you are offering Gini a factory allocation, please visit our Supplier Evaluation form.
The Problem: Market Failure
Since the beginning of the COVID-19 pandemic, scammers and price-gougers have swooped into the personal protective equipment (PPE) market. As they saturate the market, it has become increasingly harder for buyers and sellers to know who to trust and which distributors truly have reliable access to real factories that produce critical supplies. This rampant uncertainty has created massive market failures. These market failures have amplified already critical medical supply shortages, leading to unnecessary deaths and suffering around the world.
The Solution: Gini's 3 Pillars of Safe Purchasing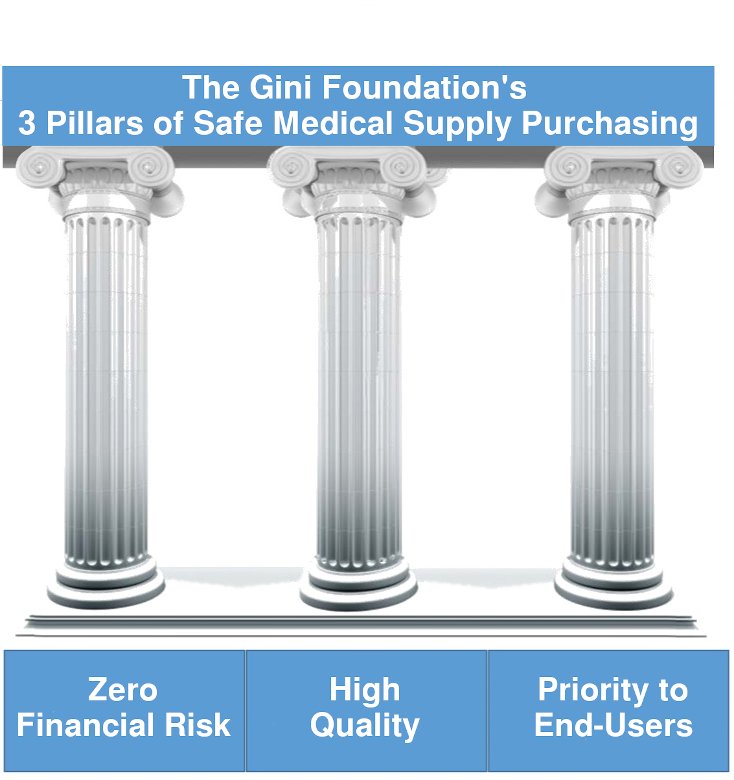 Zero Financial Risk. Gini eliminates all the financial risk for hospitals and city/state governments by financing their supplies up-front. This simultaneously gives our factories confidence to begin production and guarantees that hospitals and governments get their supplies before losing control of their money.
High Quality. Gini ensures that the quality of our medical supplies meets or exceeds all applicable quality and safety standards by sourcing supplies from the highest quality factories. We also verify that each factory has all applicable FDA and CE certifications. Supplies shipped to Gini's warehouses and end-users are inspected by the world-renown SGS inspection service prior to leaving the factory.
Priority to End-Users. To minimize the cost of supplies for hospitals and governments, Gini does not distribute our supplies through resellers or brokers because they generally add unnecessary markups that increase the cost.*
Why Are We Able to Do This?
Gini is in a unique position to work directly with many factories because vårt lag invented a secure financial technology called Authorize.Net, which 1,000s of factories (and many other companies) use today. On the nonprofit side, the Gini Foundation is an R&D lab, which publishes technical articles and books about economics and healthcare. We also build sustainable monetary and community governance systems. Gini has a long history of delivering unique, humanitarian-focused solutions.
How Does It Work?
The way the Gini Foundation helps hospitals and governments is simple: We eliminate the risk of scammers and deadbeat suppliers by putting our own money at risk first. We ensure that you actually get your medical supplies before you lose control of your money. This gives you 100% assurance that you'll get the supplies you need with no risk. Basically, in this case, Gini is a nonprofit distributor and finance platform. We can do this because we've built our own factory and banking relationships over many years.
Factory & Logistical Operations
Factory and logistical operations are not very exciting for most of our website viewers; so we don't spend much time taking and uploading pictures. For those who care, below is a small preview of some of our factory and logistical operations.
The Gini Difference Makes a Difference.
To all our front-line medical workers and government officials: We appreciate what you're doing to keep us all safe. We know you're working hard to provide life-saving services to your patients and constituents. You don't need us to tell you how to make a difference—you're already making a difference in your community every day. We're simply here to make your life a bit easier. Gini can help you get the medical supplies you need and avoid all the scammers and price-gougers.
To get started, you can view Gini's currently available medical supplies. Then you can kontakta oss to discuss your medical supply needs. Thank you for considering the nonprofit Gini Foundation for your next medical supply order.
Sincerely,
Gini
---
Anmärkningar:
* Some city/state/national governments have a preferred vendor list. In cases when Gini is not already on their list, we are forced to sell to middlemen that are already on their list. Then those vendors sell our products to the end-user. This unnecessarily increases the cost for the end-users, but this is beyond our control.
** 100% of the proceeds generated from distributing these supplies supports the nonprofit, nonpartisan Gini Foundation.
*** We have seen some politicians prioritizing their political ambitions over the health and welfare of their constituents during this pandemic. In at least one case, they have tried to inject their political agenda into Gini's nonpartisan humanitarian work. To those political creatures, we respectfully say this:
We all have a choice: You can either serve the public interest by working with Gini to save lives or you can serve your own self-interest by playing politics with people's lives. Gini is a nonpartisan organization in every way. We will not change our entire organizational DNA to serve your political agenda. If you don't appreciate Gini's nonpartisan philosophy, that's your choice. Gini will continue saving lives with or without you.
---
Did You Like This Resource?

Gini is doing important work that no other organization is willing or able to do. Please support us by joining the Gini Newsletter below to be alerted about important Gini news and events and follow Gini på Twitter.